How to make your own rosehip Christmas wreath
It's no secret that we are big fans of the humble rose hip. It is one of the heroes natural treasures that we recognized in our Christmas gift sets this year. When it came to making our own Christmas wreaths, we wanted to find a way to incorporate our miracle flower into the mix. So we spent the day with one of the oldest and most popular florists in London Hayford & Rhodes to create our own rosehip wreaths.
While watching the magic on our wreaths, the talented team explained: "The rosehip is the most beautiful by-product of nature. We source our rose hips from a Hampshire farm that is free of pesticides and is only fertilized with organic fertilizers. They are the perfect choice for a winter wreath as they are a sturdy berry with a beautiful pink color. They naturally dry to a paler peach tone while clinging to their berries to ensure a long lifespan throughout the season. "
Are you ready to let the beautiful rose hips work not only on your skin, but also on your front door? The Hayford & Rhodes teams have created this step-by-step guide to help you create your own version at home.


First step: collect your materials

"Part of the fun of making your wreath is finding the products that are easily available in nature in the fall and winter. Simply fish your pliable twigs and rose hip stems on a winter hike or get them from your local florist. Be sure to wear gloves when collecting your bounty. You will also need scissors / pruning shears, roller wire, flexible branches such as salim or birch, 20 – 30 rose hip stalks, a ribbon and clear nylon thread. "
Second step: Build your base
"For a completely natural wreath ring, form a soft circle of about 25 cm with the flexible branches. Tie them in place with the wire spool, being careful not to get them too tight. This will help maintain the natural shape of the branches. "




Third step: Prepare rose hips
"Remove most of the leaves from your rosehip stems and cut 8 cm florets from each branch."





Fourth step: attach the rose hips

"Form your wreath by twisting a loop of your wire spool onto your base. Place your first rose hip pile on the branch floor. Then wrap the wire around the rose hip stem and wreath to make sure it is snug. Place another bunch of rosehip on the previous stem and reattach it. Follow this system until you have covered 90% of your frame with rose hips. "



Tip: If you add more rose hips to the wreath in succession, make sure that they all point in the same direction. Any subsequent flower that you add should cover the stems of the previous placement to give your design a full look.
Fifth step: completing the wreath
"As you near the end of your wreath, stick the stems of your last rosehip bundle into the rosehip berries of your first placement to get a neat finish. Wrap the wire spool through the rose hip stems and attach it to your branch base. Make sure the wire is held firmly in place so your wreath and all of its materials stay safe. "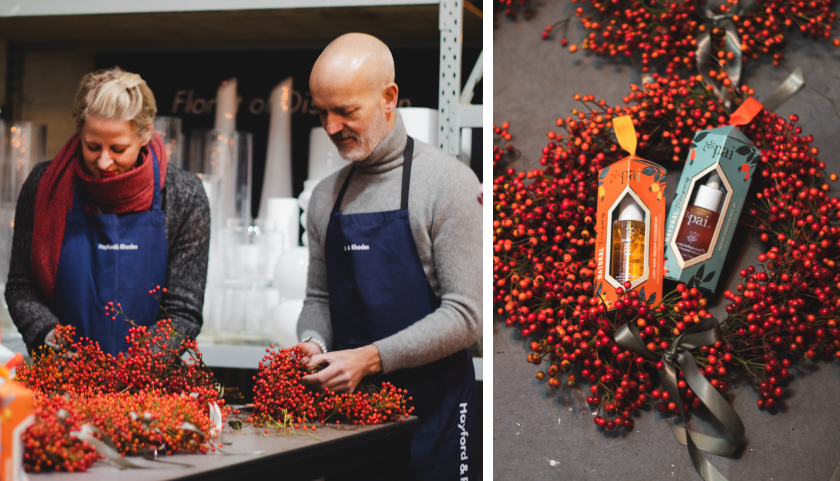 Step six: Complete with tape
"Tie a ribbon around your new rosehip wreath and complete it with a two-loop bow. Then all you have to do is hang your wreath with clear nylon thread, sit back and admire your craft! "
–
Follow Hayford & Rhodes on Instagram Facebook or visit their website HayfordandRhodes.co.uk .