Silk Naturals Makeup Review and Swatches
I've been looking for new blush colors since my favorite pink by Jane Iredale was discontinued and I came across Silk Naturals, a skin care and makeup brand. I was interested in the make-up!
Before we proceed, you know that this post is not sponsored !!! I write about these products because I am really impressed.
I don't think I've ever seen such a wide range of colors for mineral redness and markings in MY LIFE.
So I loaded 11 sunglasses on my first route – you know what?
They cost $ 4 to $ 7.50 per pop!
I have never seen a pore-free makeup of this quality at such an affordable price. AND some colors are available in generous tester sizes, so you don't have to fully commit to one color before you can tell if you're really obsessed with it.
Look at the colors I bought: Tart Light, Wish You Were Here, Ozone, Sweeter, Heavenly, Global, Envious, Charming, Babydoll, Sparkly (center).
Color descriptions
The colors include blush, highlighter and eye shadow. However, they can be used anywhere on the face.
The order of names begins at 12 noon with the neon pink color "Tart Light" and ends clockwise with the medium color "Glint".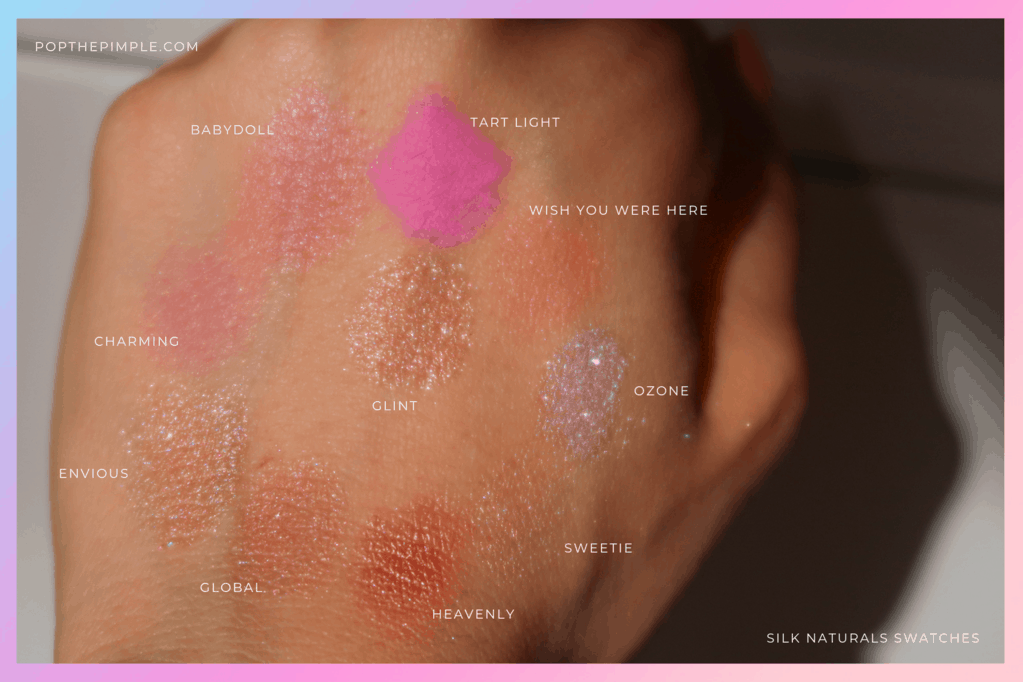 I wish you were here
This is a peach / coral shade with a subtle sheen. I wear it more on the eyelids than on the cheeks because I prefer cooler blush tones, but it wonderfully brings out the blue in my eyes.
I think it would correspond to deeper / warmer skin tones more.
Ozone
Ozone is a silvery, light purple, shimmering blue tint that looks absolutely adorable and reminds me of unicorns, but because I have so many other tones, it gets lost in the crowd – which means I don't reach for it very often, because I prefer peach / pink tones for my eyes.
Maybe you can find a way to make it look better than me!
Sweet
THIS. IS. MY. FAVE. Enough said?
I was never a highlighter until I found Sweetie.
Sweetie is the perfect highlighter for my pale skin. It gives me GLOW without too much color and fits into my skin so that the light catches it and makes my cheeks look angelic. Don't be fooled, but the subtlety in the photo (below).
I even like to apply it to my cheekbones on days when I literally don't wear any other make-up, so just over my sunscreen for an additional "holy effect is this skin real!?" Effect.
Fun fact: In fact, it's an almost perfect deception for Anastasia Beverly Hills highlighter paint in starburst, minus all the nonsense ingredients.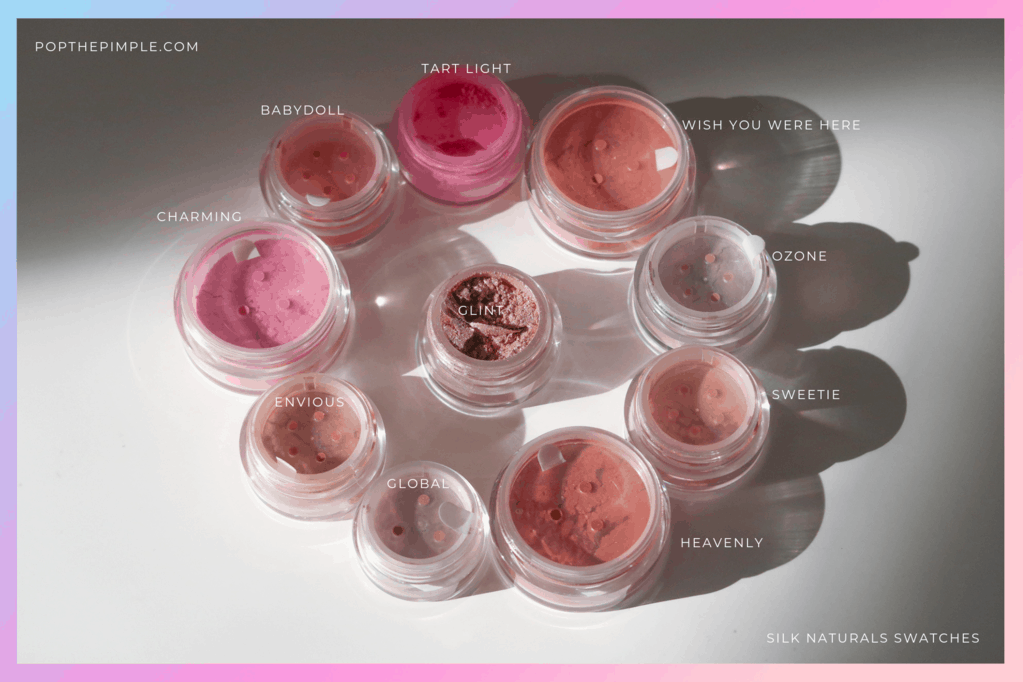 Aura
Aura is undoubtedly my favorite shadow of all. Imagine fairies and unicorns and angels … that's aura. It has pink, golden and red shimmer spots and has a magical, ethereal and hypnotic effect.
I like to use it in the middle of my eyelid. The particle size is slightly less finely ground, so that a magically falling out can be felt.
I would use a dense brush and gently wrap it up instead of using a fluffy brush.
Whiz Kid
Whiz-Lis looks pink in the glass, but still looks like lavender on the skin.
Fun tip: I love it around the eyes, where I only apply it under my iris to highlight the blue of my eyes.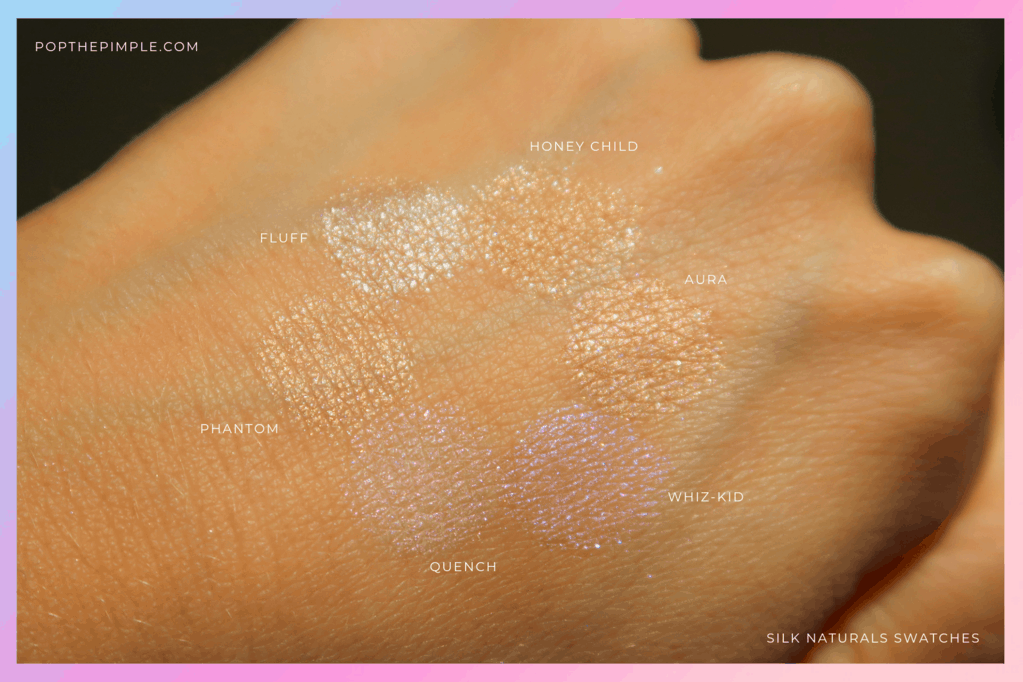 fluff
Fluff is a cool, mother-of-pearl highlighter that is very refined and beautiful. I also like it for the frontal bone. When used generously, it not only reflects the light, but also makes you look metallic wet. It's absolutely stunning and when I wrote this article I decided to wear it instead of Sweetie … and I might have found a new favorite.
Funny fact: it's another almost perfect deception for Anastasia Beverly Hills highlighter paint in crushed pearl, minus all the nonsense ingredients.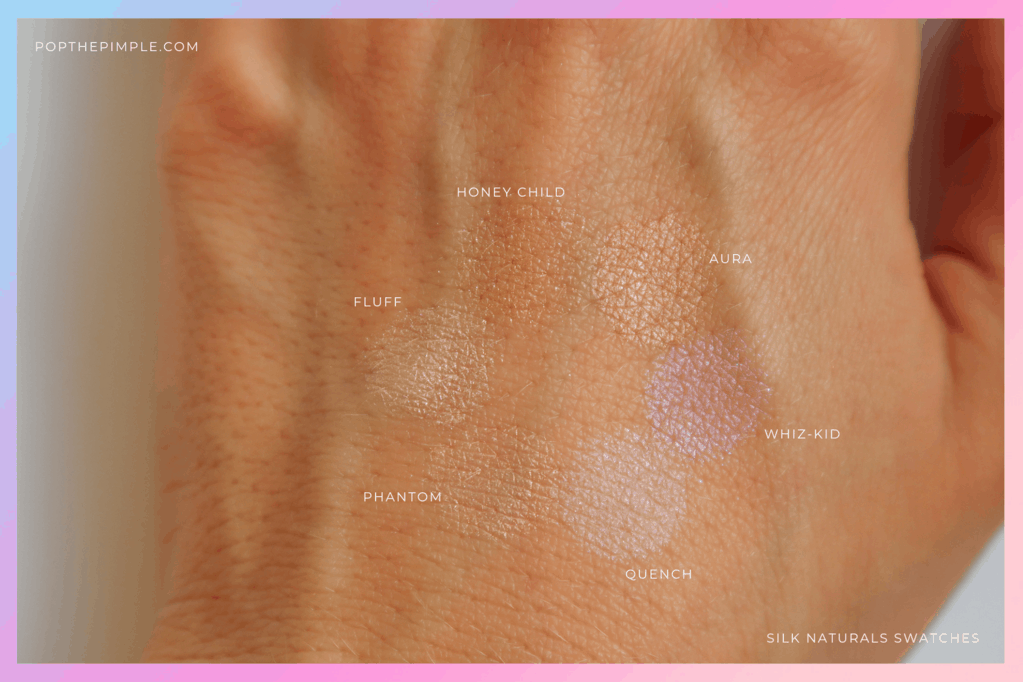 {"@context":"http:\/\/schema.org","@type":"Article","dateCreated":"2020-01-10T12:59:31+00:00","datePublished":"2020-01-10T12:59:31+00:00","dateModified":"2020-01-29T13:34:13+00:00","headline":"Silk Naturals Makeup Review and Swatches","name":"Silk Naturals Makeup Review and Swatches","keywords":[],"url":"https:\/\/abateacne.com\/silk-naturals-makeup-review-and-swatches\/","description":"I've been looking for new blush colors since my favorite pink by Jane Iredale was discontinued and I came across Silk Naturals, a skin care and makeup brand. I was interested in the make-up! Befor","copyrightYear":"2020","articleSection":"Trending","articleBody":"\n I've been looking for new blush colors since my favorite pink by Jane Iredale was discontinued and I came across Silk Naturals, a skin care and makeup brand. I was interested in the make-up! \n Before we proceed, you know that this post is not sponsored !!! I write about these products because I am really impressed. \n I don't think I've ever seen such a wide range of colors for mineral redness and markings in MY LIFE. \n So I loaded 11 sunglasses on my first route - you know what? \n They cost $ 4 to $ 7.50 per pop! \n I have never seen a pore-free makeup of this quality at such an affordable price. AND some colors are available in generous tester sizes, so you don't have to fully commit to one color before you can tell if you're really obsessed with it. \n Look at the colors I bought: Tart Light, Wish You Were Here, Ozone, Sweeter, Heavenly, Global, Envious, Charming, Babydoll, Sparkly (center). \n \n Color descriptions \n The colors include blush, highlighter and eye shadow. However, they can be used anywhere on the face. \n The order of names begins at 12 noon with the neon pink color "Tart Light" and ends clockwise with the medium color "Glint". \n ","publisher":{"@id":"#Publisher","@type":"Organization","name":"Abate Acne","logo":{"@type":"ImageObject","url":"https:\/\/abateacne.com\/wp-content\/uploads\/2020\/01\/logo.png"},"sameAs":["#","#","#","#"]},"sourceOrganization":{"@id":"#Publisher"},"copyrightHolder":{"@id":"#Publisher"},"mainEntityOfPage":{"@type":"WebPage","@id":"https:\/\/abateacne.com\/silk-naturals-makeup-review-and-swatches\/","breadcrumb":{"@id":"#Breadcrumb"}},"author":{"@type":"Person","name":"Girl 19","url":"https:\/\/abateacne.com\/author\/user\/"},"image":{"@type":"ImageObject","url":"https:\/\/abateacne.com\/wp-content\/uploads\/2020\/01\/silk-naturals-makeup-review-and-swatches.png","width":1023,"height":682}}