Soma: sustainable, fashionable hydration
We teamed up with Soma to celebrate our ultimate hydration giveaway – to celebrate the launch of our new Back To Life Hydration Serum.
We asked Mike Del Ponte to share his thoughts about hydration, design, and sustainable practices in Soma:
So what's the story? How did Soma come about?
The idea for Soma came up one evening at a dinner party. Since I wasn't ready to put a cheap plastic water filter on the nicely set table, I thought I'd pour the filtered water into a glass wine carafe as an alternative for guests. Unfortunately, the lid of the water jug ​​fell off and spilled water all over the kitchen floor.
Having always had a passion for humanity and entrepreneurship, I set out to develop a water filter that was beautifully designed, user-friendly, made from sustainable materials, and supported charitable initiatives.
Why is it so important that our water-bearing products are sustainable?
As we all know, a plastic water bottle can live up to a thousand years. Most of them are not recycled and live in a landfill or swim in the sea, which does great harm. Soma supports the movement to bring about change and reduce the massive amounts of plastic waste. Every time you refill your bottle or carafe, you're part of the solution.
The products are beautiful, how do you design them?
We had a vision. We wanted it to be the apple of the water filter. We had a general direction and were lucky enough to get in touch with two industrial designers who were outside the company. We wanted to be as simple and modern as possible. Our goal was to use natural elements to differentiate us from products already on the market.
How many of your glass bottles of water should we drink every day?
As a rule of thumb, the coveted eight glasses a day – which is difficult! Our soma bottles are 16 ounces, which means that if you drink 4 bottles a day, you will reach the eight-glass goal.
Can you tell us a little more about your filter products and how it works?
Somas Filters are the first sustainable water filters. The filters are made of coconut shell carbon, which is created by absorbing coconut shells that would otherwise end up in a landfill and become a highly absorbent carbon. As your tap water flows through the filter, the carbon can absorb contaminants such as chlorine, mercury, copper and more. The coconut shell is then surrounded by a plant-based shell. Instead of using a petroleum-based plastic like most other filters on the market, our filter and cartridge are made from sustainable plant-based materials.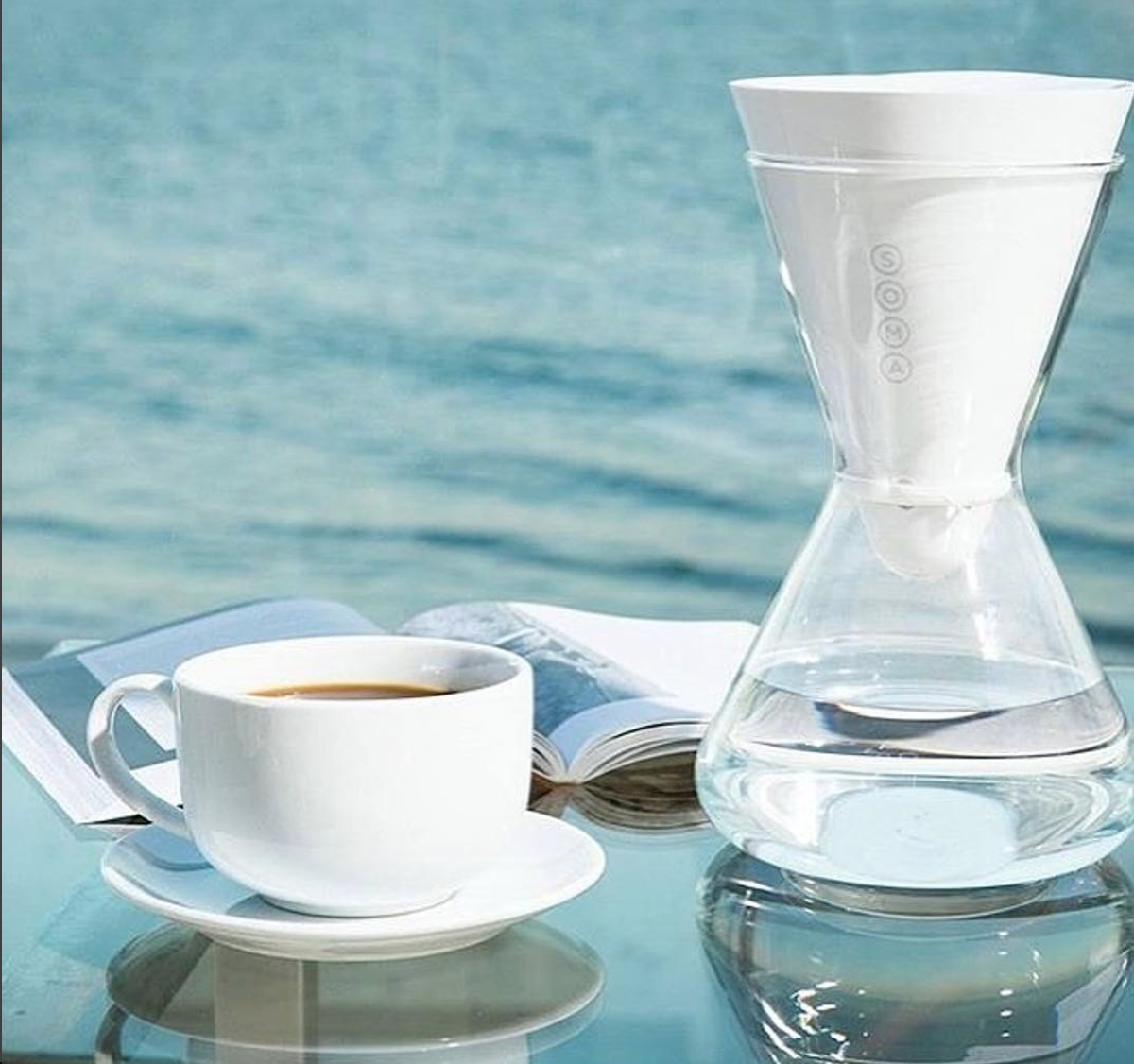 Tell us a little more about your partnership with the charity: Water
We are proud to work with charities: water in its mission to bring clean and safe drinking water to over 663 million people without access to water.
Every time you buy a Soma product, we donate to charity: water. These contributions flow directly into sustainable municipal water projects in developing countries.
What are you doing to ensure sustainable business practices?
We want our customers to feel comfortable with their water. That is why we strive to find ways not only to create more sustainable business practices, but also to find solutions to the global water crisis. As a certified B company, impact is a critical part of Soma's DNA. We integrate it into everything we do, from our product design and supply chain to our corporate culture and partnerships.
We know that Meghan Markle loves her Soma glass water bottle. Do you have any other VIP fans?
Meghan Markle, who took her soma bottle for yoga, was definitely a highlight! Olivia Wilde, Nicole Richie and Adrian Grenier are some other Soma VIP fans. Michelle Obama even selected it for her Vogue gift guide!